Lake Nona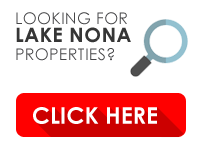 Lake Nona is an exclusive gated community in Orlando that is in a class all on its own. Named after the large lake on its northern part, Lake Nona is a 7,000 acre planned community with several prime residential areas, a golf and country club, and what is being called the "Medical City," which includes the Nemours Childrens Hospital, the University of Central Florida College of Medicine and Health Sciences, the Sanford-Burnham Medical Research Institue, the Orlando VA Medical Center, and the University of Florida Research and Academic Center.
Lake Nona is focused on providing residents with all the elements of a high quality of life and some of the best in Florida real estate. Over 44 miles of paved and unpaved trails along with countless parks and open green spaces allow you and your family to maintain a healthy lifestyle. The community is also committed to sustainability, with a full 40% of it preserved as green spaces and over 1,000 acres of lakes and waterways. All structures are designed according to the Environments For Living program for energy-efficiency, and LED lighting is primarily used across the community.
Prime residential properties are grouped into the areas of Laureate Park near Medical City, Lake Nona Golf & Country Club, Village Walk waterfront community, Waters Edge by the lake, Lake Nona Water Mark Apartments, and NorthLake Park.
Lake Nona also contains the Education Village with its own high school, the Valencia Community College, the Lake Nona Middle School, Lake Nona High School, and NorthLake Park Community School near Laureate Park.
Lake Nona provides premium retail establishments and office spaces, including the Lake Nona Village, Lake Nona Plaza, and the Lake Nona Town Center. Aside from the Lake Nona Golf & Country Club, the US Tennis Association is also in the process of moving into the Lake Nona community.
Whether you are looking to relocate, start a family, or simply enjoy life in a great community, let us know, and we will be happy to assist you.
Contact us at: info@primeusarealty.com